2019.08.26
Welfare homes and elderly, etc.
In home or old man's welfare facilities etc.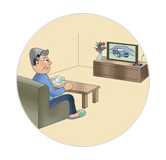 By using it with wireless hearing function, so can watching TV or listening sound regardless of distance or surrounding's noise. While watching TV, when wish conversation with someone etc., it is converted easily and usable to general hearing function.